Severe weather possible for parts of central Plains, mid-Atlantic to New England
The NWS Storm Prediction Center is forecasting a Slight Risk of severe thunderstorms Tuesday afternoon and evening across parts of the central Plains, from northwestern Kansas to southwestern Nebraska and extreme northeastern Colorado, as well across parts of the mid-Atlantic and eastern New England. Isolated strong to severe storms are possible in areas surrounding the Slight Risk areas.
Read More...
Current conditions at
Bumping Reservoir (RBUM)
Lat: 46.8686°NLon: 121.2989°WElev: 3400ft.
| | |
| --- | --- |
| Humidity | NA |
| Wind Speed | SSW 7 MPH |
| Barometer | NA |
| Dewpoint | N/A |
| Visibility | NA |
| Last update | 04 Aug 12:00 pm PDT |
Extended Forecast for
8 Miles N White Pass WA
This
Afternoon

Sunny

High: 69 °F

Tonight



Wednesday



Wednesday
Night

Thursday



Thursday
Night

Friday



Friday
Night

Saturday


Detailed Forecast
This Afternoon
Sunny, with a high near 69. West wind around 10 mph.
Wednesday Night
Calm wind.
Additional Forecasts and Information
Additional Resources
Hourly Weather Graph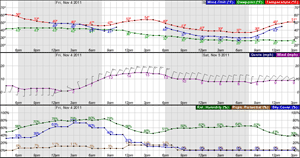 National Digital Forecast Database