Severe thunderstorms and heavy rain possible today across portions of the central plains and Midwest. Warming trend in the Pacific Northwest.
Numerous showers and thunderstorms are expected this afternoon and evening across the central Plains into portions of the Midwest. Severe thunderstorms are possible, along with heavy rain that may lead to flash flooding in some areas. The Pacific Northwest will see a steady warming trend through the week. Temperatures will rise to 10 to 15 degrees above average by Wednesday and Thursday. Read More >

Current conditions at
Valdez 2 (PAVD)
Lat: 61.13° N Lon: 146.27° W Elev: 121 ft.

Overcast
54°F
12°C
| | |
| --- | --- |
| Humidity | 82% |
| Wind Speed | W 3 mph |
| Barometer | 30.17 in |
| Dewpoint | 48°F (9°C) |
| Visibility | 10.00 mi |
| Last update | 23 Aug 2:16 pm AKDT |
Detailed forecast for
Northeast Prince William Sound
Today
Rain...heavy at times. Highs in the lower to mid 50s. Variable wind 10 mph.
Tonight
Rain. Lows in the mid to upper 40s. Variable wind to 10 mph.
Wednesday
Rain. Highs in the 50s. Light winds.
Wednesday Night
Rain. Lows around 50. Light winds.
Thursday
Rain in the morning...then scattered showers in the afternoon. Highs in the mid to upper 50s. Variable wind to 10 mph.
Thursday Night
Mostly cloudy with a slight chance of rain. Lows 45 to 50.
Friday And Friday Night
Mostly clear. Highs in the mid 60s. Lows around 50.
Saturday Through Monday
Partly cloudy. Highs 60 to 65. Lows around 50.




Additional Forecasts and Information
909 AM AKDT TUE AUG 23 2016
Additional Resources
Hourly Weather Forecast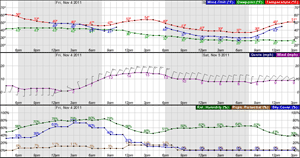 National Digital Forecast Database