Heat continues across parts of central, eastern U.S.
Higher-than-normal temperatures will continue across parts of the central and eastern U.S. on Thursday with afternoon highs reaching 20-25 degrees above normal for some locations. One of the warmest areas will be the northern Plains, where high temperatures could reach 100 degrees. Remember to limit time spent outside during excessive heat and take proper precautions to avoid heat-related illness.
Read More...

Current conditions at
Cordova, Merle K (Mudhole) Smith Airport (PACV)
Lat: 60.49°NLon: 145.48°WElev: 43ft.

Overcast
56°F
13°C
| | |
| --- | --- |
| Humidity | 60% |
| Wind Speed | Calm |
| Barometer | 30.06 in (1018.1 mb) |
| Dewpoint | 42°F (6°C) |
| Visibility | 10.00 mi |
| Last update | 3 Sep 10:53 am AKDT |
Detailed Forecast
Today
Increasing clouds with rain developing by early afternoon. Highs in the mid 50s. Light winds becoming east to 15 mph in the afternoon.
Tonight
Rain. Lows in the upper 40s. East wind 10 to 20 mph.
Friday
Rain. Highs in the mid 50s. East wind 10 to 15 mph.
Friday Night
Showers likely in the evening...then a slight chance of showers after midnight. Lows in the mid 40s to lower 50s. Variable wind to 10 mph.
Saturday
Mostly cloudy. A slight chance of showers in the afternoon. Highs around 60. Light winds.
Saturday Night
Mostly cloudy with a chance of showers. Lows 45 to 50.
Sunday Through Wednesday
Mostly cloudy with a chance of rain. Highs 55 to 60. Lows 45 to 50.




Additional Forecasts and Information
Click Map For Detailed Forecast
854 AM AKDT THU SEP 3 2015
Additional Resources
Hourly Weather Graph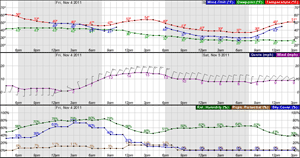 National Digital Forecast Database