Severe Thunderstorms With Heavy Rain Possible In The Upper Midwest; Excessive Heat For Central U.S.
Several rounds of strong to severe thunderstorms will be possible from the northern Plains and upper Midwest to the Great Lakes through Friday. Damaging winds, large hail, and flooding will be the primary threats with these storms. Excessive heat will grip the central Plains with heat indices approaching 105 to 110 degrees. Very hot and humid conditions are likely to expand into the Mid Atlantic. Read More >

Current conditions at
Bethel, Bethel Airport (PABE)
Lat: 60.78° N Lon: 161.84° W Elev: 125 ft.

A Few Clouds
71°F
22°C
| | |
| --- | --- |
| Humidity | 61% |
| Wind Speed | Vrbl 5 mph |
| Barometer | 29.99 in (1015.7 mb) |
| Dewpoint | 57°F (14°C) |
| Visibility | 10.00 mi |
| Last update | 21 Jul 12:53 pm AKDT |
Detailed forecast for
Kuskokwim Delta
Today
Partly cloudy. Patchy morning fog. Highs in the upper 60s to mid 70s inland and in the upper 50s to mid 60s along the coast. Northwest wind 15 mph.
Tonight
Mostly clear. Lows in the upper 40s to mid 50s. Northwest wind 10 to 15 mph.
Saturday
Partly cloudy. Highs in the mid 60s to mid 70s inland and in the mid 50s to lower 60s along the coast. Variable wind 10 mph.
Saturday Night
Partly cloudy. Lows around 50. West wind 10 to 15 mph.
Sunday
A slight chance of rain in the morning, then rain likely in the afternoon. Highs in the lower 50s to lower 60s. Southwest wind 10 to 25 mph except southwest 10 to 25 mph along the coast.
Sunday Night
Rain likely. Lows around 50.
Monday
Cloudy with a chance of rain showers. Highs 55 to 60.
Monday Night Through Thursday
Mostly cloudy with a chance of rain showers. Lows around 50. Highs around 60.




Additional Forecasts and Information
325 AM AKDT Fri Jul 21 2017
Additional Resources
Hourly Weather Forecast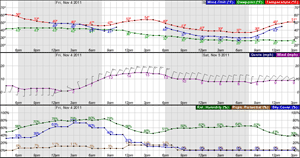 National Digital Forecast Database