Hot temperatures across the west; southeast
Heat and humidity will impact the southeast early this week. Heat indices over 100 degrees are expected from the Texas Gulf Coast to the Florida Panhandle, into the lower Mississippi Valley and portions of Alabama and Georgia. Excessive heat will return to the Desert Southwest Monday and persist through the week. Temperatures over 100 will also expand to the Intermountain West.
Read More...

Current conditions at
Van Nuys, Van Nuys Airport (KVNY)
Lat: 34.2125° N Lon: 118.49083° W Elev: 797 ft.

Fair
69°F
21°C
| | |
| --- | --- |
| Humidity | 81% |
| Wind Speed | calm |
| Barometer | 29.91 in (1011.7 mb) |
| Dewpoint | 63°F (17°C) |
| Visibility | 9.00 mi |
| Last update | 27 Jun 4:51 am PDT |
Detailed forecast for
Los Angeles County San Fernando Valley
Today
Sunny in the morning then becoming partly cloudy. Highs 96 to 106. Heat index readings around 105 in the afternoon.
Tonight
Partly cloudy. Lows in the 60s to lower 70s.
Tuesday
Partly cloudy. Highs 93 to 103.
Tuesday Night
Partly cloudy. Lows in the 60s to lower 70s.
Wednesday
Sunny. Highs 91 to 101.
Wednesday Night Through Thursday Night
Mostly clear. Lows in the upper 50s and 60s. Highs in the upper 80s and 90s.
Friday Through Sunday
Mostly clear. Highs in the 80s to around 90. Lows in the mid 50s to mid 60s.




Additional Forecasts and Information
330 AM PDT MON JUN 27 2016
Additional Resources
Hourly Weather Forecast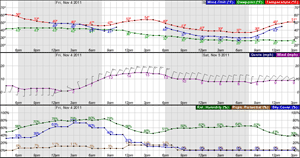 National Digital Forecast Database