Hot Weather Over Much of the U.S.
Tuesday may be the first day of September, but it will feel more like July in much of the country. Highs in the low to mid 90s will be common from the central and southern Plains across the southeast and into the mid-Atlantic. Highs over 100 will be common in the desert southwest. The hot weather is expected to continue in many areas through the Labor Day weekend.
Read More...

Current conditions at
Saipan Island, Saipan International Airport (PGSN)
Lat: 15.12°NLon: 145.73°EElev: 217ft.

Fair
81°F
27°C
| | |
| --- | --- |
| Humidity | 94% |
| Wind Speed | NE 3 mph |
| Barometer | 29.91 in |
| Dewpoint | 79°F (26°C) |
| Visibility | 10.00 mi |
| Heat Index | 89°F (32°C) |
| Last update | 1 Sep 9:54 pm ChST |
Detailed Forecast
Tonight
Partly cloudy with isolated showers and thunderstorms. Light southeast winds. Lows around 77.
Wednesday
Mostly sunny. Isolated showers and thunderstorms. Southeast to east winds 5 to 10 mph. Highs near 88.
Wednesday Night Through Friday
Partly cloudy. Isolated showers and thunderstorms. Light and variable winds. Lows near 77. Highs around 88.
Friday Night Through Tuesday
Partly cloudy. Isolated showers. Lows in the upper 70s. Highs in the upper 80s.




Additional Forecasts and Information
Click Map For Detailed Forecast
333 PM CHST TUE SEP 1 2015
Additional Resources
Hourly Weather Graph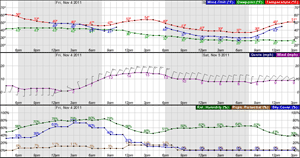 National Digital Forecast Database