Afternoon and Evening Showers and Thunderstorms Continue Across Much of the Southwest
An active monsoon weather pattern will continue through Saturday across much of the southwestern U.S. Scattered afternoon and evening showers and thunderstorms will bring locally excessive rainfall. Flash Flood Watches remain in effect for parts of the region. Some normally dry washes may have rapidly flowing water. Remember when encountering flooded roads: Turn around, don't drown!
Read More...
Hazardous Weather Conditions

Current conditions at
Newport, Newport State Airport (KUUU)
Lat: 41.53°NLon: 71.28°WElev: 171ft.

Fair
68°F
20°C
| | |
| --- | --- |
| Humidity | 84% |
| Wind Speed | Calm |
| Barometer | 29.77 in (1007.9 mb) |
| Dewpoint | 63°F (17°C) |
| Visibility | 10.00 mi |
| Last update | 1 Aug 4:53 am EDT |
Detailed Forecast
Today
Partly sunny. Isolated showers and thunderstorms this afternoon. Highs in the lower 80s. Southwest winds 10 to 15 mph. Chance of rain 20 percent.
Tonight
Mostly cloudy in the evening...then becoming partly cloudy. Humid with lows in the upper 60s. Southwest winds 5 to 10 mph...becoming northwest after midnight.
Sunday
Sunny. Highs in the lower 80s. West winds 5 to 10 mph... Becoming southwest in the afternoon.
Sunday Night
Mostly clear. Humid with lows in the upper 60s. South winds 5 to 10 mph.
Monday
Mostly sunny. Humid with highs in the lower 80s. South winds 15 to 20 mph.
Monday Night
Partly cloudy with a chance of showers and thunderstorms. Lows in the lower 70s. Chance of rain 30 percent.
Tuesday Through Wednesday Night
Partly cloudy. Highs in the lower 80s. Lows in the upper 60s.
Thursday
Partly sunny with a 30 percent chance of showers. Highs in the mid 70s.
Thursday Night And Friday
Mostly cloudy. Lows in the mid 60s. Highs in the mid 70s.




Additional Forecasts and Information
Click Map For Detailed Forecast
415 AM EDT SAT AUG 1 2015
Additional Resources
Hourly Weather Graph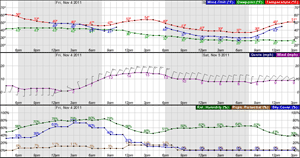 National Digital Forecast Database