Heavy Rains and Associated Flooding Across the Plains This Weekend
A slow-moving weather system with abundant moisture will bring heavy rainfall across portions of the Central and Southern Plains Saturday. Soils in the region are already saturated from recent rainfall, so flash flooding and river flooding is likely. Meanwhile, below normal temperatures settle over the northeast, with freeze warnings across much of New England into Saturday.
Read More...

Current conditions at
Maxton, Laurinburg-Maxton Airport (KMEB)
Lat: 34.79°NLon: 79.37°WElev: 220ft.

Fair
52°F
11°C
| | |
| --- | --- |
| Humidity | 89% |
| Wind Speed | Calm |
| Barometer | 30.29 in (1025.6 mb) |
| Dewpoint | 49°F (9°C) |
| Visibility | 9.00 mi |
| Last update | 23 May 1:52 am EDT |
Detailed Forecast
Rest Of Tonight
Clear. Lows in the lower 50s. Light and variable winds.
Saturday
Sunny. Highs in the lower 80s. Northeast winds 5 to 10 mph...becoming east in the afternoon.
Saturday Night
Clear. Lows in the upper 50s. East winds around 5 mph.
Sunday
Mostly sunny. Highs in the mid 80s. East winds 5 to 10 mph.
Sunday Night
Partly cloudy. Lows in the lower 60s. Southeast winds 5 to 10 mph.
Memorial Day Through Friday
Partly cloudy. Highs in the upper 80s. Lows in the mid 60s.
Additional Forecasts and Information
Click Map For Detailed Forecast
1237 AM EDT SAT MAY 23 2015
Additional Resources
Hourly Weather Graph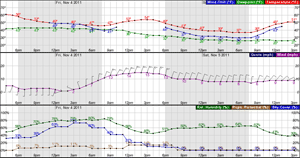 National Digital Forecast Database