Heavy Lake Effect Snow and Bitterly Cold Temperatures
A bitterly cold airmass will settle over much of the central and eastern U.S over the next several days. Well below normal temperatures and cold wind chills will be common. In addition, heavy lake effect snow will be possible especially downwind of Lakes Erie and Ontario, where up to one foot of additional snow is forecast by Sunday morning.
Read More...

Current conditions at
Orangeburg, Orangeburg Municipal Airport (KOGB)
Lat: 33.439° N Lon: 80.8003° W Elev: 197 ft.

Fair
42°F
6°C
| | |
| --- | --- |
| Humidity | 68% |
| Wind Speed | NW 8 mph |
| Barometer | 30.08 in (1018.7 mb) |
| Dewpoint | 32°F (0°C) |
| Visibility | 10.00 mi |
| Wind Chill | 37°F (3°C) |
| Last update | 13 Feb 12:53 am EST |
Detailed forecast for
Orangeburg County
Rest Of Tonight
Clear. Lows in the lower 30s. Northwest winds around 10 mph.
Saturday
Sunny. Highs in the upper 40s. North winds 10 to 15 mph.
Saturday Night
Mostly clear. Cold with lows in the lower 20s. Northeast winds 5 to 10 mph.
Sunday
Mostly sunny. Highs in the lower 40s. East winds 5 to 10 mph.
Sunday Night
Mostly cloudy. Lows in the lower 30s. East winds 5 to 10 mph.
Washingtons Birthday
A chance of snow in the morning. Cloudy with a chance of rain. Highs in the mid 50s. Chance of precipitation 50 percent.
Monday Night
Showers likely. Not as cool with lows in the mid 40s. Chance of rain 70 percent.
Tuesday
Mostly cloudy in the morning...then becoming mostly sunny. A 50 percent chance of showers. Highs in the upper 50s.
Tuesday Night Through Friday
Mostly clear. Lows in the upper 30s. Highs in the lower 60s.




Additional Forecasts and Information
102 AM EST SAT FEB 13 2016
Additional Resources
Hourly Weather Forecast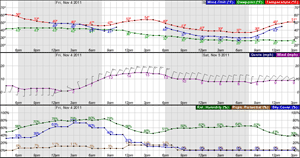 National Digital Forecast Database