High Fire Danger Continues Through Friday In Parts Of The Southwest U.S.
Strong winds and very low humidity will create dangerous fire weather conditions in parts of the Desert Southwest and southern High Plains through Friday. Any fires that ignite in this region could rapidly grow out of control. Red Flag Warnings are in effect for these areas. Read More >
Hazardous Weather Conditions

Current conditions at
Logan-Cache Airport (KLGU)
Lat: 41.78652° N Lon: 111.85187° W Elev: 4446 ft.

Overcast
59°F
15°C
| | |
| --- | --- |
| Humidity | 51% |
| Wind Speed | NNW 9 MPH |
| Barometer | 29.91 in |
| Dewpoint | 41°F (5°C) |
| Visibility | 10.00 mi |
| Last update | 26 May 3:35 pm MDT |
Detailed forecast for
Cache Valley/Utah Portion
Tonight
Mostly cloudy. Scattered rain showers and isolated thunderstorms in the evening, then isolated rain showers after midnight. Lows around 40. Chance of precipitation 30 percent.
Saturday
Partly cloudy. Highs around 70.
Saturday Night
Mostly clear. Lows in the lower 40s.
Sunday
Sunny. Highs in the mid 70s.
Sunday Night
Mostly clear. Lows in the mid 40s.
Memorial Day
Sunny. Highs around 80.
Monday Night Through Tuesday Night
Mostly clear. Lows in the upper 40s. Highs in the mid 80s.
Wednesday
Partly cloudy. Highs in the upper 80s.
Wednesday Night
Partly cloudy in the evening then becoming mostly cloudy. Lows around 50.
Thursday And Thursday Night
Mostly cloudy. A chance of rain showers. Highs in the lower 80s. Lows around 50. Chance of showers 30 percent.
Friday
Partly sunny. Highs around 80. =




228 PM MDT Fri May 26 2017
Additional Resources
Hourly Weather Forecast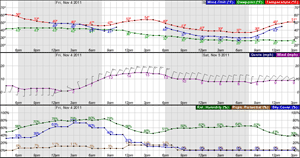 National Digital Forecast Database