Active Weather Pattern in the West and into the Central U.S.
A series of weather systems will bring locally heavy rain, 1 to 3 feet of mountain snow, and strong winds up to 75 mph across the western states. Later this weekend and early next week, a strong low pressure system will spread wintry conditions and strong winds from the Plains into the Upper Midwest. Strengthening winds in the Southern Plains will increase fire weather threats. Warmer in the east. Read More >
Hazardous Weather Conditions

Current conditions at
Evanston, Evanston-Uinta County Burns Field (KEVW)
Lat: 41.27306° N Lon: 111.03056° W Elev: 7162 ft.

Fair
45°F
7°C
| | |
| --- | --- |
| Humidity | 42% |
| Wind Speed | WSW 13 MPH |
| Barometer | 30.14 in (1018.8 mb) |
| Dewpoint | 23°F (-5°C) |
| Visibility | 10.00 mi |
| Wind Chill | 39°F (4°C) |
| Last update | 18 Jan 12:53 pm MST |
Detailed forecast for
Wasatch Mountains I-80 North
Today
Partly cloudy in the morning then becoming partly sunny. Highs in the mid 40s.
Tonight
Mostly cloudy. Lows in the upper 20s.
Friday
Rain and snow likely in the morning, then rain and snow in the afternoon. Accumulation generally less than 1 inch in the bear river valley and accumulation 1 to 3 inches in the mountains. Snow level near 7000 feet. Highs in the lower 40s. Chance of precipitation 90 percent.
Friday Night
Snow, colder. Accumulations possible. Lows near 20. Chance of snow 90 percent.
Saturday
Cloudy with a 50 percent chance of snow. Colder. Highs around 30.
Saturday Night
A chance of snow showers in the evening, then a slight chance of snow showers after midnight. Mostly cloudy. Lows 5 to 10 above. Chance of snow 30 percent.
Sunday And Sunday Night
Mostly cloudy. Highs in the lower 20s. Lows 5 to 10 above.
Monday
Cloudy. Highs in the lower 20s.
Monday Night Through Tuesday Night
Mostly cloudy. Lows 10 to 15. Highs around 30.
Wednesday
Mostly cloudy. Highs in the mid 30s. =




406 AM MST Thu Jan 18 2018
Additional Resources
Hourly Weather Forecast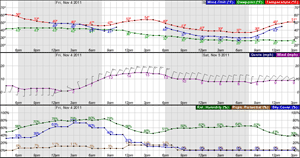 National Digital Forecast Database