Severe thunderstorms, flash flooding possible for parts of Southwest
The NWS Storm Prediction Center is forecasting a risk of severe thunderstorms Tuesday afternoon and evening for parts of the Desert Southwest, with a Marginal Risk from eastern Ariz. across much of New Mexico and into West Texas and a Slight Risk for parts of southern New Mexico and far western Texas. Flash flooding is also possible for parts of these areas, as well as parts of northeastern Colo.
Read More...
Hazardous Weather Conditions

Current conditions at
RICHFIELD MUNICPAL AIRPORT ( KRIF )
Lat: 38.74 ° ( N ) Lon: 112.1 ° ( W ) Elev: 5299 ft.
| | |
| --- | --- |
| Humidity | NA |
| Wind Speed | NA |
| Barometer | NA |
| Dewpoint | NA |
| Visibility | NA |
| Last update | |
Detailed Forecast
Today
Mostly cloudy. Scattered rain showers and isolated thunderstorms in the morning...then rain showers likely and a slight chance of thunderstorms in the afternoon. Highs in the mid 50s. Chance of precipitation 70 percent.
Tonight
Cloudy with a chance of rain showers in the evening... Then partly cloudy with a slight chance of rain showers after midnight. Lows in the lower 30s. Chance of showers 30 percent.
Wednesday
Partly cloudy. Highs in the mid 60s.
Wednesday Night
Mostly clear. Lows in the upper 30s.
Thursday
Sunny. Highs around 70.
Thursday Night
Partly cloudy. Lows in the upper 30s.
Friday Through Columbus Day
Mostly clear. Highs in the lower 70s. Lows around 40. =




314 AM MDT TUE OCT 6 2015
Additional Resources
Hourly Weather Graph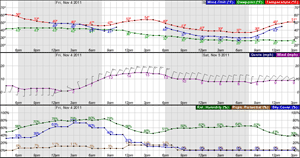 National Digital Forecast Database