Heat Wave in Central U.S.
Dangerous heat will continue in the Nation's mid-section on Tuesday. Combined with high humidity, this will lead to Heat Index temperatures ranging from 100 to 110 degrees Fahrenheit across parts of the Plains and mid-South. Heat Advisories and Excessive Heat Warnings are in effect. If you must be outside, slow down and drink plenty of water.
Read More...

Current conditions at
DOUGLAS (DOUW1)
Lat: 47.619917°NLon: 119.899389°WElev: 2530ft.
| | |
| --- | --- |
| Humidity | 33% |
| Wind Speed | WNW 16 G 25 MPH |
| Barometer | NA |
| Dewpoint | 38°F (3°C) |
| Visibility | NA |
| Last update | 27 Jul 7:48 pm PDT |
Detailed Forecast
Tonight
Mostly clear. Lows in the upper 40s to mid 50s... Except in the mid to upper 40s on the waterville plateau. Windy. Northwest wind 15 to 25 mph.
Tuesday
Sunny. Highs in the lower to mid 80s.
Tuesday Night
Clear. Lows in the 50s. Southwest wind 5 to 15 mph in the evening...becoming light.
Wednesday
Sunny...warmer. Highs in the lower 90s.
Wednesday Night
Clear. Lows in the upper 50s to lower 60s. West wind 5 to 15 mph.
Thursday Through Monday
Mostly clear. Highs in the 90s. Lows in the 60s.




Click Map For Detailed Forecast
257 PM PDT MON JUL 27 2015
Additional Resources
Hourly Weather Graph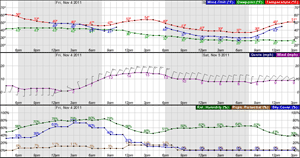 National Digital Forecast Database