Snow and High Winds Across the Rockies and Central High Plains; Unseasonably Warm Over the Central U.S.
A storm system will shift into the Rockies and High Plains into Friday, bringing strong winds and snow to mountainous terrain. Record high temperatures may occur across the Great Plains and Upper Midwest today. This weekend, Pacific moisture will bring heavy rain and high elevation snow to the Pacific Northwest, and severe thunderstorms will impact the Southern Plains and Lower Mississippi Valley. Read More >

Current conditions at
Rota Island, N. Mariana Is, Rota International Airport (PGRO)
Lat: 14.18° N Lon: 145.25° E Elev: 607 ft.
| | |
| --- | --- |
| Humidity | NA |
| Wind Speed | NA |
| Barometer | NA |
| Dewpoint | NA |
| Visibility | NA |
| Last update | *** Not a current observation *** |
Detailed forecast for
Rota
Tonight
Mostly cloudy with isolated showers. East winds 10 to 15 mph. Lows around 78. Chance of showers 20 percent.
Friday Through Saturday Night
Partly cloudy with isolated showers. East winds 10 to 15 mph. Highs around 87. Lows near 77. chance of showers 20 percent.
Sunday Through Thursday
Breezy. Partly cloudy with a 20 percent chance of showers. Highs in the upper 80s. Lows in the upper 70s.




Additional Forecasts and Information
357 PM ChST Thu Dec 7 2023
Additional Resources
Hourly Weather Forecast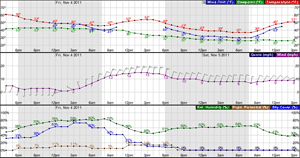 National Digital Forecast Database