Heat Across The Southern U.S.; Storms And Heavy Rain in Central U.S.
The early-season heat across portions of the Southern U.S. will continue for much of this week with more potential record high temperatures. On Tuesday, expect 90s and triple digits from the southern Plains into parts of the Lower Mississippi Valley. Also on Tuesday, strong to severe thunderstorms and locally heavy rainfall will be possible from the central Plains into the Mid Mississippi Valley. Read More >

Current conditions at
GERBER RESERVOIR (GRBO3)
Lat: 42.205972° N Lon: 121.138056° W Elev: 4950 ft.
| | |
| --- | --- |
| Humidity | 76% |
| Wind Speed | NW 1 MPH |
| Barometer | NA |
| Dewpoint | 39°F (4°C) |
| Visibility | NA |
| Last update | 17 May 07:45 AM PDT |
Detailed forecast for
Northern and Eastern Klamath County and Western Lake County
Today
Sunny. Highs in the mid 60s to lower 70s. North winds around 5 mph early this morning becoming light, then becoming west 5 to 10 mph this afternoon.
Tonight
Partly cloudy. Lows around 40. West winds 5 to 10 mph.
Wednesday
Mostly cloudy. Slight chance of showers in the afternoon. Highs in the lower to mid 60s. Southwest winds 5 to 10 mph shifting to the west 10 to 20 mph with gusts to around 35 mph in the afternoon.
Wednesday Night
Mostly cloudy. Lows in the lower to mid 30s. Breezy. West winds 15 to 25 mph decreasing to 10 to 15 mph well after midnight.
Thursday
Mostly cloudy in the morning then clearing. Highs in the lower to mid 50s. Northwest winds 10 to 15 mph.
Thursday Night Through Friday Night
Mostly clear. Lows in the mid 20s to mid 30s. Highs in the lower 50s to lower 60s.
Saturday Through Monday
Partly cloudy. Highs in the mid 60s to lower 70s. Lows in the lower 30s to lower 40s.




231 AM PDT Tue May 17 2022
Additional Resources
Hourly Weather Forecast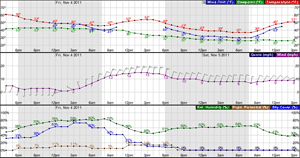 National Digital Forecast Database