Heavy Lake Effect Snow and Bitterly Cold Temperatures
A bitterly cold airmass will settle over much of the central and eastern U.S over the next several days. Well below normal temperatures and cold wind chills will be common. In addition, heavy lake effect snow will be possible especially downwind of Lakes Erie and Ontario, where up to one foot of additional snow is forecast by Sunday morning.
Read More...
Hazardous Weather Conditions

Current conditions at
Davenport, Davenport Municipal Airport (KDVN)
Lat: 41.6371° N Lon: 90.6232° W Elev: 751 ft.

Overcast
21°F
-6°C
| | |
| --- | --- |
| Humidity | 54% |
| Wind Speed | Calm |
| Barometer | 30.27 in (1026.5 mb) |
| Dewpoint | 7°F (-14°C) |
| Visibility | 10.00 mi |
| Last update | 11 Feb 8:52 pm CST |
Detailed forecast for
Scott County
Rest Of Tonight
Cloudy. A slight chance of light snow in the late evening and early morning...then scattered flurries early in the morning. Low around 14. Southwest wind 5 to 10 mph. Chance of snow 20 percent.
Friday
Blustery. Mostly cloudy in the morning then clearing. High in the lower 20s. Northwest wind 10 to 15 mph increasing to 15 to 25 mph in the afternoon. Gusts up to 35 mph. Wind chill readings to 3 below.
Friday Night
Blustery...colder. Mostly clear. Low around 2 below. Northwest wind 15 to 25 mph with gusts to around 30 mph decreasing to 10 to 15 mph after midnight. Wind chill readings to 19 below.
Saturday
Colder...sunny. High around 12. Northwest wind 5 to 10 mph. Wind chill readings to 18 below in the morning.
Saturday Night
Partly cloudy in the evening...then mostly cloudy with a 40 percent chance of light snow after midnight. Low around 6. Southeast wind 5 to 10 mph. Wind chill readings to 8 below.
Sunday
Snow likely. High in the lower 20s. Chance of snow 70 percent.
Sunday Night
Mostly cloudy with a 30 percent chance of snow. Low around 16.
Washingtons Birthday Through Wednesday Night
Mostly cloudy. High in the mid 30s. Low in the lower 20s.
Thursday
Blustery. Partly sunny. High in the lower 40s.




Additional Forecasts and Information
926 PM CST THU FEB 11 2016
Additional Resources
Hourly Weather Forecast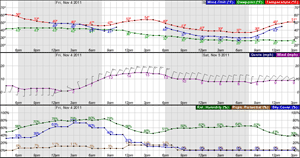 National Digital Forecast Database