Significant Storm Systems To Impact Both The Northern Plains and The Carolinas
Strong low pressure will bring very strong winds and blizzard conditions to portions of the Northern Plains into Monday. Winds gusting over 60 mph at times may cause whiteout conditions. A second low pressure system is forecast to intensify rapidly off the U.S east coast bringing strong winds, heavy rainfall, and coastal flooding to the Carolina's. Heavy snow will impact eastern New England.
Read More...

Current conditions at
Sanford, Sanford Regional Airport (KSFM)
Lat: 43.559° N Lon: 70.7784° W Elev: 243 ft.

Fair
28°F
-2°C
| | |
| --- | --- |
| Humidity | 69% |
| Wind Speed | NE 13 mph |
| Barometer | 30.12 in |
| Dewpoint | 19°F (-7°C) |
| Visibility | 10.00 mi |
| Wind Chill | 17°F (-8°C) |
| Last update | 7 Feb 10:55 pm EST |
Detailed forecast for
Interior York
Tonight
Partly cloudy. Lows around 17. Northeast winds 10 to 15 mph. Gusts up to 35 mph after midnight.
Monday
Snow...mainly in the afternoon. Patchy blowing snow in the afternoon. Snow accumulation around an inch. Much colder with highs around 19. North winds 15 to 20 mph. Gusts up to 40 mph in the morning. Chance of snow near 100 percent.
Monday Night
Snow. Areas of blowing snow in the evening. Patchy blowing snow after midnight. Total snow accumulation of 4 to 7 inches. Lows around 15. North winds 15 to 20 mph. Chance of snow near 100 percent.
Tuesday
Cloudy with a 50 percent chance of snow. Highs in the mid 20s. North winds around 10 mph.
Tuesday Night
Cloudy. Lows around 16. Light and variable winds.
Wednesday And Wednesday Night
Mostly cloudy with a 30 percent chance of snow showers. Highs in the lower 30s. Lows around 20.
Thursday
Mostly cloudy in the morning...then becoming partly sunny. Highs in the upper 20s.
Thursday Night Through Friday Night
Partly cloudy. Lows around 5 above. Highs in the mid 20s.
Saturday Through Sunday
Partly cloudy. Highs around 15. Lows zero to 5 above zero.




Additional Forecasts and Information
1058 PM EST SUN FEB 7 2016
Additional Resources
Hourly Weather Forecast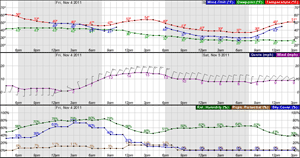 National Digital Forecast Database