Severe thunderstorms possible for parts of Southwest
The NWS Storm Prediction Center is forecasting a risk of severe thunderstorms Wednesday afternoon and evening across portions of the Desert Southwest, mainly across southern New Mexico and far West Texas. Large hail will be the main threat with any severe thunderstorms that develop. Heavy rain could also result in flash flooding across these areas.
Read More...
Hazardous Weather Conditions

Current conditions at
Haines Memorial Airport ( KHAI )
Lat: 41.96 ° ( N ) Lon: 85.59 ° ( W ) Elev: 823 ft.

Fair
65°F
18°C
| | |
| --- | --- |
| Humidity | 87% |
| Wind Speed | NW 5 mph |
| Barometer | 30.15 in |
| Dewpoint | 61°F (16°C) |
| Visibility | 10.00 mi |
| Last update | 7 Oct 11:35 am EDT |
Detailed Forecast
Rest Of Today
Partly cloudy in the morning then becoming mostly sunny. Highs around 70. Northwest winds around 10 mph.
Tonight
Mostly clear. Lows around 50. North winds 5 to 10 mph shifting to the east after midnight.
Thursday
Partly cloudy. A 20 percent chance of showers in the afternoon. Highs in the lower 70s. South winds 5 to 15 mph.
Thursday Night
Mostly cloudy with showers likely and a slight chance of a thunderstorm through midnight...then cloudy with a chance of showers after midnight. Lows in the upper 50s. West winds 10 to 15 mph. Chance of precipitation 70 percent.
Friday
Cloudy with a 20 percent chance of showers in the morning...then partly cloudy in the afternoon. Cooler. Highs in the lower 60s. Northwest winds 5 to 15 mph.
Friday Night Through Saturday Night
Mostly clear. Lows in the mid 40s. Highs in the lower 60s.
Sunday Through Tuesday
Mostly clear. Highs in the lower 70s. Lows in the 40s to mid 50s.




Additional Forecasts and Information
1113 AM EDT WED OCT 7 2015
Additional Resources
Hourly Weather Graph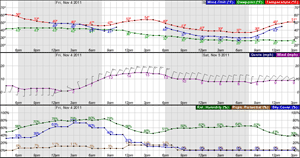 National Digital Forecast Database