Complex Storm Systems to bring locally heavy rainfall over the Appalachians and Wintry Conditions to the Northwest
Locally heavy rainfall and potential flooding will continue overnight into Wednesday morning over portions of the Appalachians. Over the Pacific Northwest, a secondary storm system will bring another round of wintry weather Wednesday into Thursday with the potential for ice and slippery travel.
Read More...

Current conditions at
Rocky Mount, Rocky Mount-Wilson Regional Airport ( KRWI )
Lat: 35.86 ° ( N ) Lon: 77.89 ° ( W ) Elev: 161 ft.

Fog
53°F
12°C
| | |
| --- | --- |
| Humidity | 100% |
| Wind Speed | Calm |
| Barometer | 30.04 in (1017.4 mb) |
| Dewpoint | 53°F (12°C) |
| Visibility | 0.25 mi |
| Last update | 1 Dec 11:53 pm EST |
Detailed Forecast
Rest Of Tonight
Cloudy with a 20 percent chance of rain. Areas of dense fog. Near steady temperature in the lower 50s. Light and variable winds...becoming south around 5 mph.
Wednesday
Cloudy. Areas of dense fog in the morning. A slight chance of showers in the morning...then showers likely with a slight chance of thunderstorms in the afternoon. Warmer with highs in the upper 60s. South winds around 5 mph...becoming southwest with gusts up to 20 mph in the afternoon. Chance of rain 70 percent.
Wednesday Night
Mostly cloudy. A chance of showers in the evening. Lows in the mid 40s. Southwest winds 5 to 10 mph... Becoming west after midnight. Chance of rain 50 percent.
Thursday
Mostly sunny. Cooler with highs in the mid 50s. Northwest winds 5 to 10 mph.
Thursday Night
Clear. Cooler with lows in the lower 30s. North winds around 5 mph.
Friday Through Sunday
Mostly clear. Highs in the mid 50s. Lows in the mid 30s.
Sunday Night Through Tuesday
Partly cloudy. Lows in the upper 30s. Highs in the upper 50s.




Additional Forecasts and Information
1004 PM EST TUE DEC 1 2015
Additional Resources
Hourly Weather Graph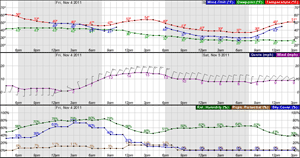 National Digital Forecast Database