Storms Continue to Pound the Western U.S.
Storms will continue to bring heavy rain, flooding and strong winds to California and many states across the west. Heavy rain will result in flooding for some areas, and heavy snow will be possible at high elevation locations. By mid-week, these storms may bring heavy snow to the northern Rockies and Intermountain west. Heavy rain and flooding will also impact the central Gulf Coast this week. Read More >

Current conditions at
Rocky Mount, Rocky Mount-Wilson Regional Airport (KRWI)
Lat: 35.86° N Lon: 77.89° W Elev: 161 ft.

Fair
62°F
17°C
| | |
| --- | --- |
| Humidity | 44% |
| Wind Speed | Calm |
| Barometer | 30.19 in (1022.3 mb) |
| Dewpoint | 40°F (4°C) |
| Visibility | 10.00 mi |
| Last update | 21 Feb 1:53 pm EST |
Detailed forecast for
Nash County
Additional Forecasts and Information
104 PM EST Tue Feb 21 2017
Additional Resources
Hourly Weather Forecast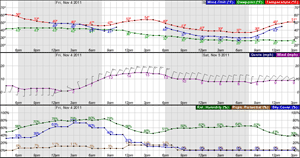 National Digital Forecast Database