Thunderstorms possible across parts of Midwest, Southeast, Interior West on Friday
Thunderstorms are possible Friday across parts of the Midwest, Southeast and Interior West. Thunderstorms that develop in these areas should remain below severe limits, with the possible exception of northeastern North Dakota into northern Minnesota, where there is a Marginal Risk of severe thunderstorms on Friday.
Read More...

Current conditions at
Concord, Concord Regional Airport (KJQF)
Lat: 35.39°NLon: 80.71°WElev: 689ft.

Fair
63°F
17°C
| | |
| --- | --- |
| Humidity | 88% |
| Wind Speed | Calm |
| Barometer | 30.16 in |
| Dewpoint | 59°F (15°C) |
| Visibility | 10.00 mi |
| Last update | 28 Aug 3:15 am EDT |
Detailed Forecast
Overnight
Mostly clear. Near steady temperatures in the mid 60s. East winds around 5 mph.
Friday
Sunny. Highs in the mid 80s. Northeast winds 5 to 10 mph.
Friday Night
Mostly clear. Lows in the mid 60s. East winds around 5 mph.
Saturday
Partly sunny. Highs in the mid 80s. Light and variable winds...becoming southeast around 5 mph in the afternoon.
Saturday Night
Mostly cloudy. Lows around 70. South winds around 5 mph.
Sunday Through Thursday
Mostly cloudy. Highs in the upper 80s. Lows around 70.




Additional Forecasts and Information
Click Map For Detailed Forecast
211 AM EDT FRI AUG 28 2015
Additional Resources
Hourly Weather Graph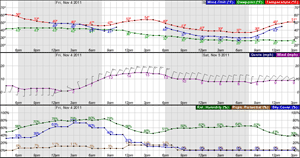 National Digital Forecast Database