Showers and thunderstorms forecast for parts of eastern U.S.
Showers and thunderstorms are forecast on Friday from the Tennessee Valley to southern New England. A few thunderstorms may produce damaging wind gusts or possibly even a tornado, especially for parts of the Northeast. Meanwhile, heavy rain is possible across parts of the Pacific Northwest Friday into Saturday.
Read More...
Hazardous Weather Conditions

Current conditions at
BROOKINGS ( BRKO )
Lat: 42.03 ° ( N ) Lon: 124.24083 ° ( W ) Elev: 79 ft.
| | |
| --- | --- |
| Humidity | 65% |
| Wind Speed | SSE 3 G 7 MPH |
| Barometer | NA |
| Dewpoint | 54°F (12°C) |
| Visibility | NA |
| Last update | 09 Oct 2:00 pm PDT |
Detailed Forecast
Tonight
Mostly cloudy with a 20 percent chance of rain. Lows in the mid 50s. South winds 5 to 10 mph.
Saturday
Mostly cloudy. Slight chance of rain in the morning... Then rain in the afternoon. Highs around 60. South winds 10 to 20 mph. Chance of rain 80 percent along the coast and 80 percent inland.
Saturday Night
Mostly cloudy. Showers in the evening...then slight chance of showers after midnight. Lows in the lower to mid 50s. South winds 10 to 15 mph. Chance of showers 80 percent.
Sunday
Partly cloudy. Highs in the mid 60s to lower 70s. Southeast winds around 5 mph in the morning becoming light.
Sunday Night
Partly cloudy. Lows around 50. Northwest winds around 5 mph shifting to the northeast after midnight.
Columbus Day Through Thursday
Mostly clear. Highs in the mid 60s to mid 70s. Lows in the lower to mid 50s.
Thursday Night And Friday
Mostly clear. Lows in the mid 50s. Highs in the mid 60s to mid 70s.




Additional Forecasts and Information
239 PM PDT FRI OCT 9 2015
Additional Resources
Hourly Weather Graph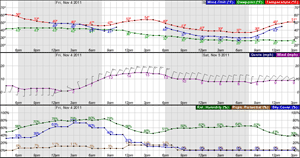 National Digital Forecast Database