Multi-day heavy rainfall and flooding event continues to unfold in the Central and Southern U.S.
Another day of heavy rain on Friday will further increase the risk of flash flooding and long-term flooding in the Southern Plains and the Lower/Mid-Mississippi and Ohio River Valleys. The NWS Weather Prediction Center has issued Moderate Risks for excessive rainfall for parts of these regions on Friday and into the weekend. Some areas may see an additional 4-5 inches of rain over the next 3 days. Read More >

Current conditions at
Watertown, Watertown Municipal Airport (KATY)
Lat: 44.9° N Lon: 97.15° W Elev: 1745 ft.

Overcast
18°F
-8°C
| | |
| --- | --- |
| Humidity | 96% |
| Wind Speed | NW 12 mph |
| Barometer | 30.13 in (1023.2 mb) |
| Dewpoint | 17°F (-8°C) |
| Visibility | 7.00 mi |
| Wind Chill | 5°F (-15°C) |
| Last update | 23 Feb 7:53 am CST |
Detailed forecast for
Codington County
Today
Mostly cloudy. Areas of fog in the morning. Highs in the lower 20s. Temperature steady or slowly falling in the afternoon. Northwest winds 5 to 15 mph.
Tonight
Partly cloudy. Lows zero to 5 above. West winds up to 5 mph, becoming southeast after midnight.
Saturday
Snow. Snow accumulation of 3 to 4 inches. Highs in the lower 20s. East winds 5 to 10 mph.
Saturday Night
Mostly cloudy with a 40 percent chance of light snow in the evening, then partly cloudy after midnight. Lows around 10. West winds 5 to 15 mph.
Sunday
Partly sunny. Highs in the upper 20s. West winds 10 to 20 mph with gusts up to 30 mph.
Sunday Night
Mostly clear. Lows 10 to 15.
Monday And Monday Night
Partly cloudy. Highs in the lower 30s. Lows 10 to 15.
Tuesday And Tuesday Night
Mostly cloudy. Highs around 30. Lows 10 to 15.
Wednesday Through Thursday
Partly cloudy. Highs in the upper 20s. Lows 10 to 15.




Additional Forecasts and Information
728 AM CST Fri Feb 23 2018
Additional Resources
Hourly Weather Forecast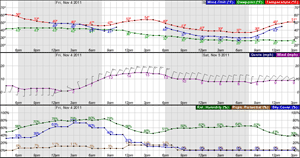 National Digital Forecast Database