Strong winds and wintry weather for Northern Plains, Upper Midwest
A powerful storm system over southern Canada will track toward the Great Lakes by Sunday. Strong winds and wintry precipitation from this storm will impact the northern Plains and Upper Midwest beginning today. Numerous High Wind Warnings, Wind Advisories even Blizzard Watches are in effect across this region.
Read More...
Hazardous Weather Conditions

Current conditions at
San Marcos, San Marcos Municipal Airport (KHYI)
Lat: 29.8372° N Lon: 97.62° W Elev: 597 ft.
Clear and Breezy
61°F
16°C
| | |
| --- | --- |
| Humidity | 25% |
| Wind Speed | NW 24 G 31 mph |
| Barometer | 30.36 in |
| Dewpoint | 25°F (-4°C) |
| Visibility | 10.00 mi |
| Last update | 6 Feb 1:47 pm CST |
Detailed forecast for
Caldwell County
Rest Of Today
Breezy...sunny. Highs in the lower 60s. Northwest winds 15 to 25 mph with gusts to around 35 mph.
Tonight
Clear. Lows in the lower 30s. North winds 5 to 10 mph.
Sunday
Sunny. Highs in the mid 60s. South winds 5 mph becoming southwest 10 to 15 mph in the afternoon.
Sunday Night
Mostly clear. Lows in the upper 30s. Southwest winds 5 to 10 mph shifting to the north 10 to 15 mph after midnight.
Monday
Sunny. Highs around 60. North winds 10 to 15 mph.
Monday Night Through Tuesday Night
Clear. Lows in the mid 30s. Highs 62 to 67.
Wednesday Through Thursday
Clear. Highs in the mid 70s. Lows 37 to 45.
Thursday Night
Mostly clear. Lows in the lower 50s.
Friday
Partly cloudy in the morning then clearing. Highs in the mid 70s.




Additional Forecasts and Information
1048 AM CST SAT FEB 6 2016
Additional Resources
Hourly Weather Forecast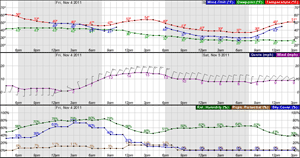 National Digital Forecast Database