Severe weather possible for parts of Midwest, New England
There is a Slight Risk of severe thunderstorms Tuesday afternoon and evening across parts of the Midwest, from southeastern NE and extreme northeastern KS across northern MO and much of IA and into extreme portions of southeastern MN and southwestern WI. A Marginal Risk of severe thunderstorms extends from southwestern KS to northern MN and Lake Superior, as well as across northern New England.
Read More...
Hazardous Weather Conditions

Current conditions at
Craig-Moffat Airport (KCAG)
Lat: 40.49297°NLon: 107.52394°WElev: 6181ft.

Fair
74°F
23°C
| | |
| --- | --- |
| Humidity | 22% |
| Wind Speed | NNW 7 MPH |
| Barometer | 30.28 in (1019.1 mb) |
| Dewpoint | 33°F (1°C) |
| Visibility | 10.00 mi |
| Last update | 28 Jul 12:53 pm MDT |
Detailed Forecast
Today
Sunny. Highs in the 70s.
Tonight
Clear. Lows in the 30s.
Wednesday
Sunny. Highs 75 to 85.
Wednesday Night
Mostly clear. Lows in the 40s.
Thursday
Sunny. Highs in the 80s.
Thursday Night Through Friday Night
Mostly clear. Lows in the 40s. Highs in the 80s.
Saturday Through Sunday Night
Partly cloudy. Highs in the 80s. Lows 45 to 55.
Monday
Mostly sunny. A 10 percent chance of showers and thunderstorms in the afternoon. Highs in the 80s.




Additional Forecasts and Information
Click Map For Detailed Forecast
332 AM MDT TUE JUL 28 2015
Additional Resources
Hourly Weather Graph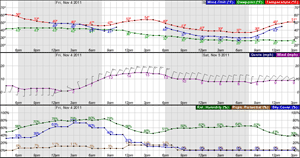 National Digital Forecast Database