Winter Storm Travel Hazards from Mid-South to the Northeast
Heavy snow and ice accumulations are likely to produce hazardous travel, downed trees, and power outages. Heaviest snow is expected along and just west of the Appalachians, and the most damaging icing is likely across parts of North Carolina. Thunderstorms may produce damaging winds and tornadoes in Florida and the eastern Carolinas. Strong winds and coastal flooding are also expected. Read More >

Current conditions at
Pratt Municipal (KPTT)
Lat: 37.7° N Lon: 98.75° W Elev: 1952 ft.

Fair
56°F
13°C
| | |
| --- | --- |
| Humidity | 26% |
| Wind Speed | N 15 mph |
| Barometer | 29.94 in |
| Dewpoint | 22°F (-6°C) |
| Visibility | 10.00 mi |
| Last update | 16 Jan 1:55 pm CST |
Detailed forecast for
Pratt County
This Afternoon
Sunny. Much warmer. Highs in the mid 50s. Temperature steady or slowly falling through late afternoon. North winds 10 to 15 mph.
Tonight
Clear. Not as cold. Lows in the lower 20s. North winds around 10 mph in the evening then becoming light.
Martin Luther King Jr Day
Sunny. Highs in the upper 50s. Southwest winds around 10 mph then becoming south 15 to 20 mph in the afternoon.
Monday Night
Clear. Lows in the upper 20s. South winds 10 to 15 mph.
Tuesday
Partly cloudy. Highs in the upper 50s. Light winds.
Tuesday Night And Wednesday
Partly cloudy. Colder. Lows in the mid 20s. Highs in the mid 30s.
Wednesday Night
Mostly cloudy. A 20 percent chance of snow after midnight. Colder. Lows around 11.
Thursday
Mostly cloudy with a 30 percent chance of snow. Colder. Highs in the mid 20s.
Thursday Night
Partly cloudy. Lows around 8.
Friday
Mostly sunny. Highs in the lower 30s.
Friday Night And Saturday
Partly cloudy. Not as cool. Lows around 18. Highs in the mid 40s.




Additional Forecasts and Information
158 PM CST Sun Jan 16 2022
Additional Resources
Hourly Weather Forecast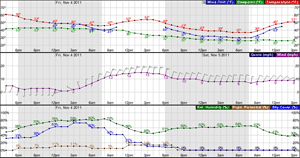 National Digital Forecast Database