Strong Winds Over Portions of the Rockies & Plains; Chilly for Much of the Eastern U.S.
Low pressure pushing eastward will generate strong winds over parts of the Rockies and Plains through Saturday with some light precipitation. Meanwhile, a much cooler air mass will overtake the eastern half of the country with frost and freeze concerns. Elevated fire weather conditions are expected for the Great Basin and parts of California, along with poor air quality in some locales. Read More >

Current conditions at
Salem, Salem-Leckrone Airport (KSLO)
Lat: 38.64° N Lon: 88.96° W Elev: 574 ft.

Fair
48°F
9°C
| | |
| --- | --- |
| Humidity | 66% |
| Wind Speed | Calm |
| Barometer | 30.29 in |
| Dewpoint | 37°F (3°C) |
| Visibility | 10.00 mi |
| Last update | 30 Oct 6:15 pm CDT |
Detailed forecast for
Marion County
Late This Afternoon
Clear. Temperature falling to around 50. Light wind.
Tonight
Clear. Low in the lower 30s. Light wind.
Saturday
Sunny. High around 60. South wind 10 to 15 mph.
Saturday Night
Mostly clear. Low around 40. South wind 10 to 15 mph in the evening shifting to the west after midnight.
Sunday
Breezy, cooler, sunny. High around 50. Temperature falling through the 40s in the afternoon. Northwest wind 15 to 20 mph with gusts to around 30 mph.
Sunday Night
Colder, clear. Low in the mid 20s. Northwest wind around 10 mph in the evening becoming light after midnight.
Monday
Sunny. High in the lower 50s.
Monday Night
Clear. Low in the mid 30s.
Tuesday And Tuesday Night
Warmer, clear. High in the lower 60s. Low in the lower 40s.
Wednesday Through Thursday Night
Partly cloudy. High in the upper 60s. Low in the upper 40s.
Friday
Mostly sunny. High in the upper 60s.




Additional Forecasts and Information
451 PM CDT Fri Oct 30 2020
Additional Resources
Hourly Weather Forecast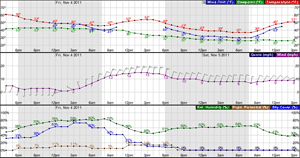 National Digital Forecast Database